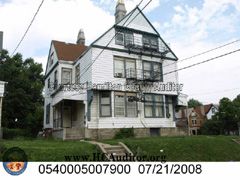 NEIGHBORHOOD:
Evanston
YEAR BUILT:
1900
USE:
Multi-family (4 units)
OWNER:
Jason Roy III
ASSESSED VALUE:
$89,200
HAZARD:
February 2010, added broken and missing windows.
CONDEMNED:
October 2009, for missing siding, gutters and downspouts, rotted porch columns, missing roof covering, and a chimney needing tuck pointing. A criminal case was filed in January 2010, but was dismissed when the property was transferred to the owner's son.
ORDERS:
--
REASON RAZED:
Declared a public nuisance and entered into the City's hazard abatement program.
MAP