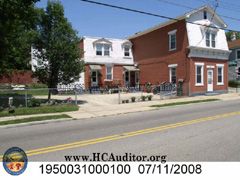 NEIGHBORHOOD:
Northside
YEAR BUILT:
1890
USE:
Two-family dwelling
OWNER:
Hamilton County Board of County Commissioners
ASSESSED VALUE:
$116,460
HAZARD:
--
CONDEMNED:
--
ORDERS:
Ordered vacated and barricaded in December 2011 due to disrepair, neglect, and vandalism due to vacancy. Violations included gutters and downspouts, missing siding and paint, missing and broken windows, missing or vandalized mechanical systems, and no utilities.
REASON RAZED:
Razed as part of the Metropolitan Sewer District of Greater Cincinnati's
West Fork Watershed sewer project
.
MAP