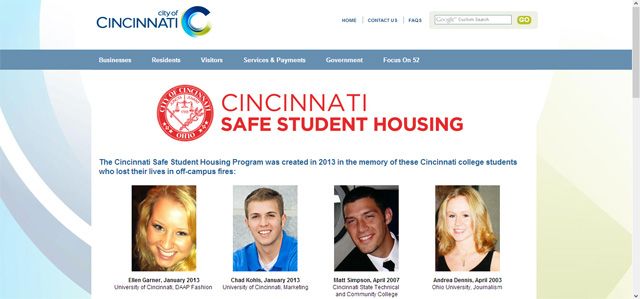 Cincinnati's Safe Student Housing Program website
officially launched on Wednesday, more than one month after the voluntary inspection program began.
The list includes apartments and rental homes that have passed a recent safety inspection by the
Cincinnati Fire Department (CFD)
.
Councilmember Laure Quinlivan led the creation of the program following a New Year's Day fire on Digby Avenue that claimed the lives of
University of Cincinnati (UC)
students Chad Kohls and Ellen Garner. Both died from smoke inhalation while trapped on the third floor, with the only means of escape being a window blocked by an air conditioner unit.
Quinlivan's daughter will be attending UC this fall.
"We want to make sure that what happened to Chad Kohls and Ellen Garner doesn't happen again," Quinlivan said in a prepared release. "Their parents encouraged us to use their photos and stories on the new website to capture the attention of young people."
More than 245 units have been inspected so far. Last Saturday, CFD passed out 337 flyers during UC's safety blitz, generating even more interest.
"The Cincinnati Safe Student Housing Program is a critical initiative to the Cincinnati Fire Department, which will enhance the service we provide to Cincinnati residents," said District Fire Chief Frederick Prather.
Landlords, tenants, or parents of a tenant may request a free inspection by calling the CFD at (513) 357-7585. Participating landlords will receive a Tenant-Landlord Commitment Addendum, which they can sign and attach to their leases.
So far, four properties are listed on the new website: the
Jefferson House Apartments
,
Vine Street Flats
, and the
Euclid Square Apartments
, all owned and managed by
Uptown Rental Properties
; and a building at 516 Tafel Street.
Also on Wednesday, City Council passed an ordinance designating the largest window in a sleeping room as a secondary fire escape route and preventing the installation of air conditioner units, or other obstructions, within those windows.
Previous reading on BC:
Voluntary safe student housing inspections begin (7/16/13)
Proposed legislation would require photoelectric smoke detectors in rental properties (2/19/13)
Comprehensive training for landlords is Friday (10/16/12)
Landlord training this Friday (5/16/12)
Chronic nuisance ordinance to be reviewed...again (4/13/10)