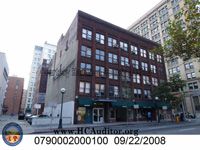 Downtown's Schwartz Building will be renovated into 20 apartments and 6,705 square feet of street-level retail and will be built to LEED Silver standards.
On August 7, the City authorized a Community Reinvestment Area LEED tax exemption with Black Iron Capital LLC for the $400,000 project to convert the largely vacant, 33,525-square-foot office property at
906-908 Main Street
over to residential use.
Work is scheduled to begin this month, with the first apartments becoming available in December 2015.
The 12-year agreement will save the developer $108,787 over the life of the agreement.
Black Iron Capital LLC purchased the 93-year-old building in March for $446,000.