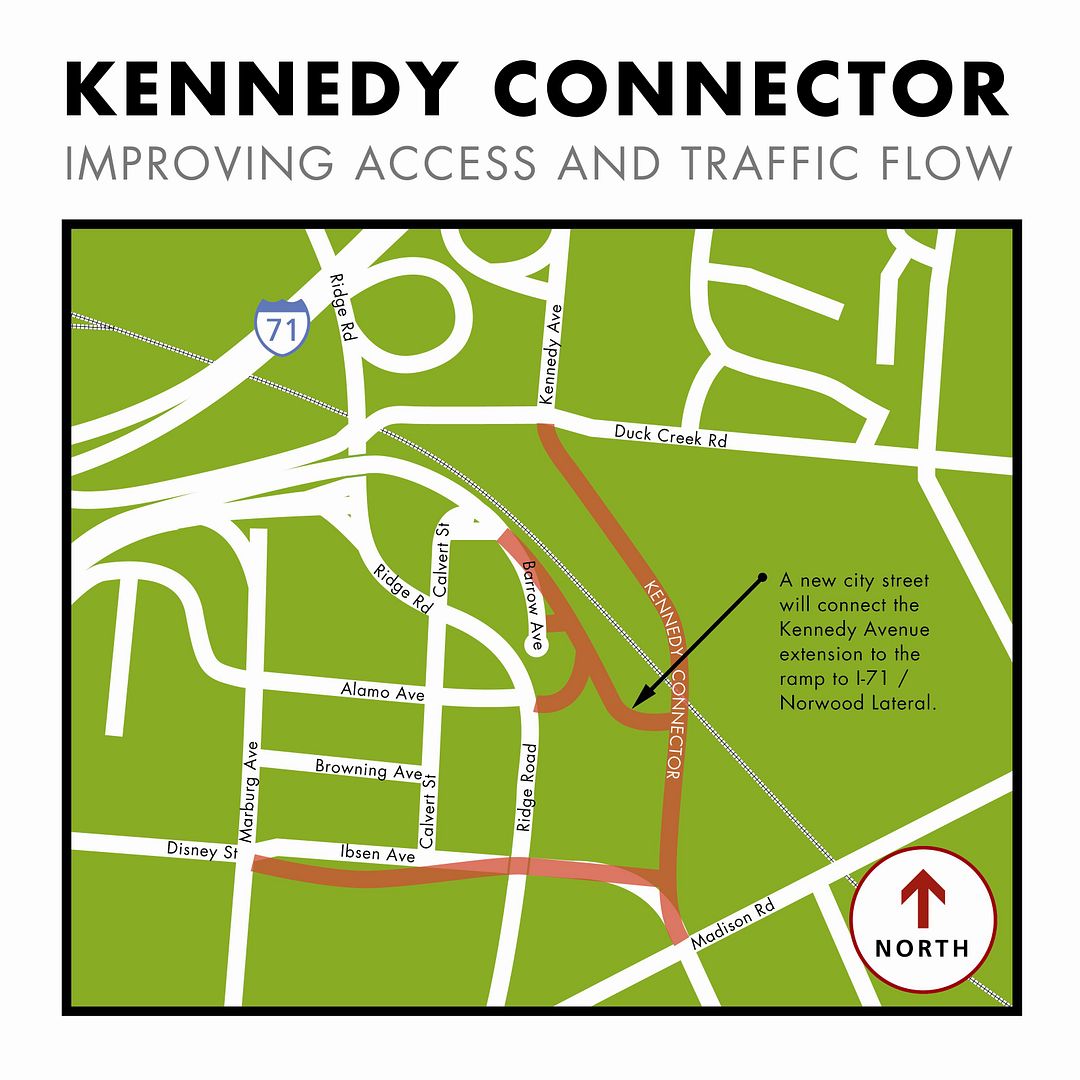 The City of Cincinnati is giving you the chance to name its newest street through an
online survey
.
The new street, which is being created as part of the $35 million Kennedy Connector project, will help tie the new section of Kennedy Avenue into I-71 southbound and the Norwood Lateral. It will also link to Ridge and Alamo avenues, providing highway access for both of those streets.
"This will be a very short road, but it will do a big job," said Michael Moore, director of the Department of Transportation and Engineering (DOTE), in a prepared release. "It deserves a great name."
Nominations must be no more than 13 letters – not including designations such as "Street" or "Avenue" – and must be submitted by August 2. Names that are offensive, derogatory, or commercial in nature will not be accepted.
A naming committee composed of residents from surrounding neighborhoods and members of the Cincinnati media will select a handful of finalists, from which the public can select its favorite beginning August 12.
"Someone is going to come up with a name that will be on that road sign for generations," said Melissa McVay, senior City planner with DOTE.
When completed at the end of this year, the Kennedy Connector project is expected to alleviate traffic on Ridge Road and provide better access from Madison Road to I-71 northbound by:
Adding a new five-lane Kennedy Avenue between Duck Creek and Madison roads with a center, left-turn only lane. New landscaping, sidewalks, and bicycle infrastructure will be added.
Realigning Ibsen Avenue between Marburg and Ridge avenues, with Ibsen Avenue continuing eastward to tie into the Kennedy Connector.
Realigning and improving the intersection at Ibsen Avenue and Ridge Road, Ibsen and Marburg avenues, and Alamo Avenue and Ridge Road.
Replacing Barrow Avenue as the access point to Interstate 71 southbound with a new City street. Barrow Avenue will end in a cul-de-sac.
Previous reading on BC:
City to sell 3+ acres for Oakley office, daycare (6/21/13)
Section of Madison Road to close for a month for water main work (7/18/12)
Temporary Duck Creek/Kennedy lanes open Tuesday (6/22/12)
Construction of 'key' Kennedy Connector begins (5/23/12)
Oakley Station residences win LEED tax exemption (4/9/12)