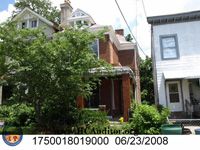 NEIGHBORHOOD:
East Price Hill
YEAR BUILT:
1885
USE:
Single-family dwelling
OWNER:
David R. Muenchen
ASSESSED VALUE:
$30,100
ORDERS:
--
CONDEMNED:
July 2010, for missing mortar joints and loose brick, a deteriorated chimney, gutters, cornice, and deck. By September 2011, the owner was attempting to sell the property through a short sale. A criminal case was filed in March 2012.
HAZARD:
July 2012. Tax delinquent.
REASON RAZED:
Declared a public nuisance and entered into the City's hazard abatement program.
MAP