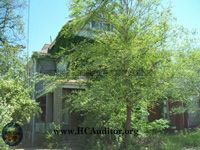 NEIGHBORHOOD:
East Price Hill
YEAR BUILT:
1885
USE:
Single-family dwelling
OWNER:
John P. Jones
ASSESSED VALUE:
$39,850
ORDERS:
May 2002, for defective plumbing lines, water leaks and damage, cabinets, electric fixtures, sink, roof, and cornice. Reissued in April 2007 for exterior paint, cornice, gutters and downspouts.
CONDEMNED:
July 2010, for a bulged and leaning rear masonry wall, gutters, electric service entrance, cornice and soffits, guard rails, broken and open windows, and high weeds and litter. A civil fine was issued in August 2011, and the then-owner presented bankruptcy documents. A criminal case was filed in December 2011. Forfeited land sale.
HAZARD:
November 2011.
REASON RAZED:
Declared a public nuisance and entered into the City's hazard abatement program.
MAP