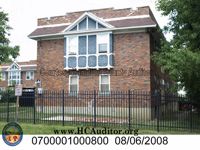 NEIGHBORHOOD:
Walnut Hills
YEAR BUILT:
1927
USE:
Multi-family dwelling
OWNER:
Wachman Properties LLC (San Francisco, CA)
ASSESSED VALUE:
$866,560
ORDERS:
December 2009, ordered vacated and barricaded due to squatters being found in the vacant building. A civil fine was issued in July 2011, and a second civil fine was issued in November 2011. A criminal case was filed in August 2012, but was dismissed within a month for want of prosecution.
CONDEMNED:
August 2012, vacant, vandalized, and a magnet for criminal activity by local gangs. Mechanical systems had been damaged or removed, windows and doors were broken or missing, the weeds were high and the property was strewn with litter.
HAZARD:
November 2012, adding a rotted roof and disconnected downspouts.
REASON RAZED:
Declared a public nuisance and entered into the City's hazard abatement program.
MAP