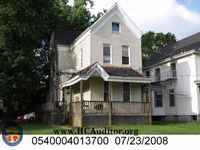 NEIGHBORHOOD:
Evanston
YEAR BUILT:
1894
USE:
Three-family dwelling
OWNER:
Cheryl and David Lemons
ASSESSED VALUE:
$78,320
ORDERS:
--
CONDEMNED:
August 2012, for collapsing porch steps, missing siding, deteriorated and missing downspouts, vandalism and missing copper, a defective chimney, exterior paint, open mortar joints in the foundation, and litter.
HAZARD:
November 2012.
REASON RAZED:
Demolished by the owners to close out orders, one week after a contract for demolition was received from the City's Purchasing Division.
MAP