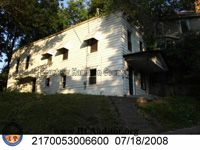 NEIGHBORHOOD:
Clifton
YEAR BUILT:
1880
USE:
Two-family dwelling
OWNER:
2358 Harrison Ave LLC
ASSESSED VALUE:
$4,000
ORDERS:
--
CONDEMNED:
March 2012, vacant and deteriorated and cited for foundation failure, sill rot, rotten exterior wall framing and holes, broken and missing windows and doors, gutters and downspouts, soffit, litter, and signs of interior vandalism and water damage.
HAZARD:
October 2012, adding cornice and roof. Tax delinquent. A civil fine was issued in August 2012. In December 2012, a potential buyer was informed of the building's condition and told that the owner's permission would be needed to get inside for an inspection. Property acquired by current owner in January 2013.
REASON RAZED:
Declared a public nuisance and entered into the City's hazard abatement program.
MAP