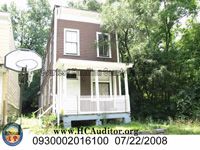 NEIGHBORHOOD:
Mount Auburn
YEAR BUILT:
1905
USE:
Single-family dwelling
OWNER:
Sidereal Enterprises LLC
ASSESSED VALUE:
$5,100
ORDERS:
August 2011, ordered vacated and barricaded due to trespassers, missing windows, growth in the gutters, missing downspouts, and tires, litter, and high weeds in the yard. A civil fine was issued in July 2012.
CONDEMNED:
October 2012, adding a rotten and leaning front porch, missing siding, water damage and rot, and sagging flooring and roofing. Reissued to current owner in December 2012. In March 2013, the owner had a demolition permit but indicated to City inspectors that he wanted to rehab the building.
HAZARD:
--
REASON RAZED:
Demolished by the owner to close out orders.
MAP