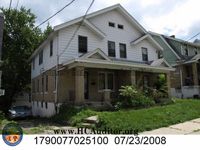 NEIGHBORHOOD:
West Price Hill
YEAR BUILT:
1929
USE:
Two-family dwelling
OWNER:
Rutledge Management Inc.
ASSESSED VALUE:
$84,780
ORDERS:
October 2008, ordered vacated and barricaded due to interior vandalism, significant moisture damage, a failing rear deck structure, and litter. All of the building's copper and heating equipment had been stolen.
CONDEMNED:
May 2010, adding gutters and downspouts, porch guard rails, defective masonry, broken windows and doors, deteriorated paint, and electrical service entrance. A criminal case was filed in June 2010, but was dismissed one month later for want of prosecution.
HAZARD:
May 2012, adding high weeds.
REASON RAZED:
Declared a public nuisance and entered into the City's hazard abatement program.
MAP