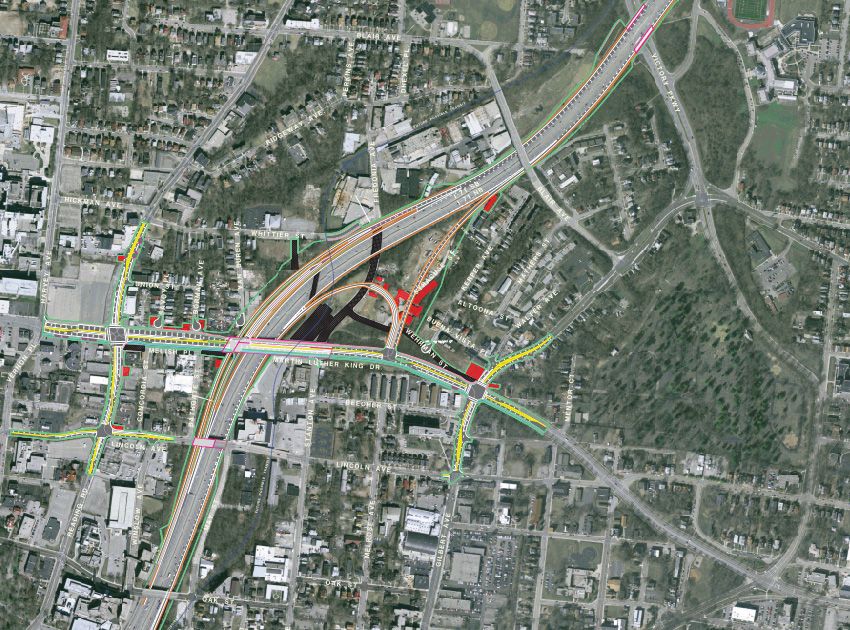 The
Ohio Controlling Board
on Monday approved $4.2 million for property appraisal and acquisition for the new
I-71/Martin Luther King Drive
interchange.
The funding, of which 80 percent comes from federal sources and 20 percent comes from state sources, will be split evenly between the firms of
DLZ Ohio Inc.
of Columbus, Heritage Land Services Inc. of Westerville, and
O.R. Colan Associates of Florida LLC
of Fairview Park.
The $86 million project will include a full interchange, an additional southbound access lane, and improvements to the local road network. The existing I-71 ramps to Taft Road and from E McMillan Street will be maintained.
Construction is expected to begin in July 2014 and is tentatively scheduled for completion in November 2017.
Approximately 55,000 jobs are located in the Uptown neighborhoods, and 300,000 vehicles pass through daily.
A June 2012 study by the
University of Cincinnati Economics Center
estimated that the new interchange would have a $101 million economic impact and add 2,000 jobs. A more recent estimate by outgoing economic development director Odis Jones touted the creation of as many as 7,000 new jobs.
The City will hold open houses for a planning study of areas along Martin Luther King Drive and Reading Road this month at the
Hampton Inn & Suites Cincinnati/Uptown-University Area
, located at 3024 Vine Street in Corryville, from 10 A.M.-noon on July 20 and from 5 P.M.-7 P.M. on July 24. Formal presentations will be given each half hour.
Image: Alternative 2 (recommended preferred alternative), presented at April 20 and 23 open houses
Previous reading on BC:
Two Uptown development control districts extended through May 2014 (7/5/13)
Development controls established in two Uptown districts (4/29/13)
MLK interchange wins $5M; Public meetings set (4/1/13)
TRAC accepts 2014-2017 draft for road projects, accepting public comment (12/21/12)
City applies for $2.4M to study MLK interchange (9/25/12)