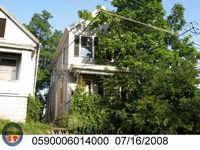 NEIGHBORHOOD:
Evanston
YEAR BUILT:
1910
USE:
Single-family dwelling
OWNER:
Gregory C. Popham II, trustee
ASSESSED VALUE:
$14,810
ORDERS:
April 2007, ordered barricaded. Ordered vacated and barricaded in December 2008 due to interior vandalism. Orders issued to new owner in January 2012, citing open and broken windows, a collapsing front porch deck, lack of exterior paint, missing siding, gutters and downspouts, and vandalism.
CONDEMNED:
January 2013, adding exterior doors that were off of their hinges and nailed in place.
HAZARD:
--
REASON RAZED:
Demolished by the owner to close out orders.
MAP