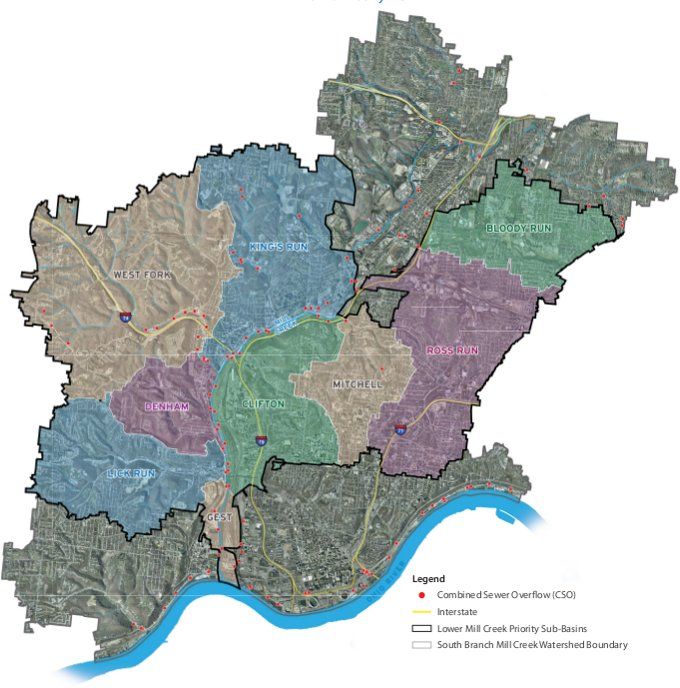 The
U.S. Environmental Protection Agency (EPA)
has approved a plan by the
Metropolitan Sewer District of Greater Cincinnati (MSD)
to reduce combined sewer overflows (CSOs) into the Lower Mill Creek.
The plan is part of the $244 million (2006 dollars) Phase 1 of
Project Groundwork
, an ambitious project that will remove 1.78 billion gallons of CSOs annually from the Mill Creek by 2018.
The project was made necessary by a 2002 federal consent decree and CSO control plan to capture, treat or remove 85 percent of the more than 14.1 million gallons of annual overflows from the system, requiring more than $3.2 billion in sewer infrastructure upgrades.
MSD's solution relies heavily on a watershed-based approach that can hold and delay the release of stormwater after heavy rains. It touts its benefits as improving water quality, spurring community development in local neighborhoods, remediating underutilized brownfield sites, and creating jobs.
"We are very excited to move forward with our innovative wet weather solution that not only provides highly cost-effective compliance with our Consent Decree but simultaneously sets the groundwork to enhance our communities," MSD Executive Director Tony Parrott said in a prepared release.

Lick Run featured
The largest – and most controversial – part of the project is the daylighting of the Lick Run in South Fairmount, returning the buried waterway to the surface and eliminating 624 million gallons of overflows annually from MSD's largest CSO.
Located within a
six-block area bounded by White Street, the Western Hills Viaduct, and Queen City and Westwood avenues
, the project requires the demolition of dozens of buildings and the displacement of several businesses. In their place, residents will see transportation and streetscape improvements, a new civic hub, and multi-use cultural trails.
Nearly three-fourths of the property needed for the project has been acquired by MSD, and work could begin as soon as this summer.
Phase 1 also includes a suite of projects in the Kings Run, West Fork, and Bloody Run watersheds that will eliminate 422 million gallons of CSOs annually.
The original alternative, a deep tunnel system, would have cost nearly $500 million.
MSD will submit its plan for Phase 2 of Project Groundwork in 2017.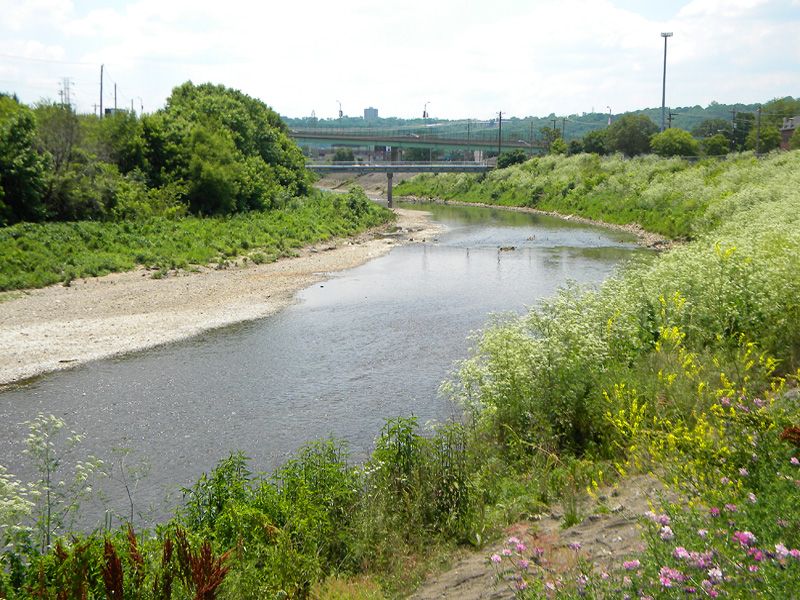 A national model, currently on hold
The plan has been recognized as a national model for sustainable stormwater management and was featured in a
video
presented at the
2013 National Brownfields Conference
in Atlanta, which drew more than 6,000 attendees.
"This plan is good news for the residents of Cincinnati and for communities along the Ohio River," said Cynthia Giles, assistant administrator for EPA's Office of Enforcement and Compliance Assurance. "Not only will this innovative plan ensure that significant volumes of polluted stormwater and raw sewage are kept out of local waterways, but it will also cost less than more traditional approaches, saving money for ratepayers and the city."
All of Project Groundwork is temporarily on hold after Hamilton County Commissioners last month passed a resolution halting all new sewer construction contracts in response to two City ordinances that revise apprentice program guidelines and give City-based small businesses an advantage in bidding those contracts.
Owned by the county and operated by the City, MSD collects and treats more than 180 million gallons of sewage daily for 43 municipalities, villages and townships through 3,000 miles of sanitary and combined sewers.
Previous reading on BC:
Elimination of MSD overflow credits should make development easier (3/1/13)
Lower Mill Creek overflow proposals submitted to regulators (12/28/12)
County hearings on Lower Mill Creek sewer alternatives underway (9/26/12)
MSD completes Lick Run plan (5/30/12)
Cincinnati economic development will 'actively support' Lick Run businesses (4/9/12)