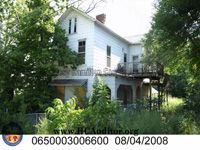 NEIGHBORHOOD:
Walnut Hills
YEAR BUILT:
1895
USE:
Single-family dwelling
OWNER:
TC Funding Group LLC
ASSESSED VALUE:
$25,980
ORDERS:
--
CONDEMNED:
October 2011, for missing siding, roof, a collapsed chimney, gutters and downspouts, interior vandalism, open and missing windows, and high weeds. A civil fine was issued in January 2012.
HAZARD:
October 2012, adding litter.
REASON RAZED:
Declared a public nuisance and entered into the City's hazard abatement program.
MAP