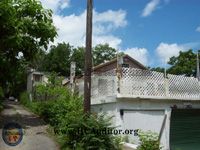 NEIGHBORHOOD:
Walnut Hills
YEAR BUILT:
1895
USE:
Multi-family dwelling
OWNER:
Richard Moore
ASSESSED VALUE:
$29,410
ORDERS:
--
CONDEMNED:
June 2001, for fire damage. Orders were reissued in January 2006, citing fire damage to floor joists, roof, rafters and walls, as well as windows, doors, and siding. Ordered vacated and barricaded in May 2006. Reissued to a new owner in November 2006, then again in February 2011. A civil fine was issued in November 2011.
HAZARD:
July 2012, adding downspouts and cornices.
REASON RAZED:
Declared a public nuisance and entered into the City's hazard abatement program. Demolished using Moving Ohio Forward program funding.
MAP