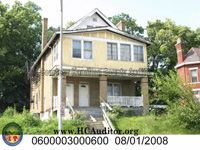 NEIGHBORHOOD:
Avondale
YEAR BUILT:
1925
USE:
Three-family dwelling
OWNER:
Marcus E. Burnett
ASSESSED VALUE:
$65,880
ORDERS:
--
CONDEMNED:
March 2010, for a rotten and collapsed roof, gutters and downspouts, broken and missing windows and doors, a deteriorated fire escape, defective stucco, hazardouse front porch stairs and decking, and trash. The interior of the building had been gutted of its plaster. The owner told the City he planned to sell the building, but apparently had no success. Condemnation orders were reissued in September 2011. A criminal case was filed in January 2012. Two months later, Burnett was found guilty and placed into a housing compliance program.
HAZARD:
July 2012, adding cracks in the foundation and masonry walls.
REASON RAZED:
Declared a public nuisance and entered into the City's hazard abatement program. Demolished using Moving Ohio Forward program funding.
MAP