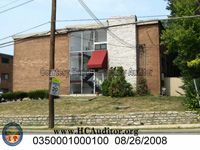 NEIGHBORHOOD:
Madisonville
YEAR BUILT:
1962
USE:
Multi-family dwelling
OWNER:
Madison Road Real Estate LLC
ASSESSED VALUE:
$392,500
ORDERS:
December 2011, for a lack of heating, door security, hazardous wiring, and water leaking onto adjoining property. In January 2012, orders were issued for downspouts, soffit, exterior doors, interior paint, cluttered hallways, handrail, sinks, lack of heating, and door security. By March 2012, a new owner acquired the property following foreclosure and the City decided to hold off on criminal enforcement. Orders were reissued in June 2012, adding hazardous wiring, and the issued again in October 2012.
CONDEMNED:
--
HAZARD:
--
REASON RAZED:
Demolished by the current owner, which purchased it and the adjacent property in March 2013 for $465,000, to close out orders. Likely redevelopment.
MAP