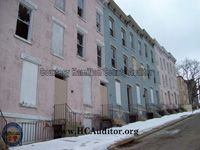 NEIGHBORHOOD:
Mount Auburn
YEAR BUILT:
1870
USE:
Multi-family dwelling
OWNER:
Leroy Glen Investment LLC
(Eagle Realty Group)
ASSESSED VALUE:
$52,990
ORDERS:
--
CONDEMNED:
October 2008, for windows, missing doors, gutters and downspouts, deteriorated masonry, water damage, missing and vandalized mechanicals, and litter. In criminal status with previous owner Dorian Development, which made no attempt to purchase a Vacant Building Maintenance License (VBML) and was depending on City support for a redevelopment project, which never came. Eventually, all attempts to clean up the property, keep it barricaded, and abate graffiti were abandoned. Following the building's acquisition by Eagle Realty Group in November 2011, condemnation orders were reissued. The company petitioned the City to block off traffic into and out of the complex to cut down on illegal dumping and vandalism, and soon began cleaning up the site.
HAZARD:
--
REASON RAZED:
Demolished by Eagle Realty Group for future redevelopment as workforce housing. The building was part of the Glencoe-Auburn Hotel and Glencoe-Auburn Place Row Houses, listed on the
National Register of Historic Places
in December 2003.
MAP