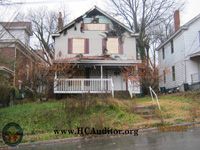 NEIGHBORHOOD:
Evanston
YEAR BUILT:
1911
USE:
Single-family dwelling
OWNER:
Andrew J. Rodgers, Jr.
ASSESSED VALUE:
$17,170
ORDERS:
--
CONDEMNED:
December 2011, following a fire that damaged the roof and its support structure, floor structure, walls, doors, windows, siding, and interior stairs. According to news reports, Rodgers and his wife were watching television when they smelled smoke and saw flames coming from a second floor bedroom.
HAZARD:
November 2012.
REASON RAZED:
Declared a public nuisance and entered into the City's hazard abatement program.
MAP