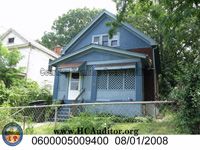 NEIGHBORHOOD:
Walnut Hills
YEAR BUILT:
1916
USE:
Single-family dwelling
OWNER:
Toni Easley
ASSESSED VALUE:
$39,900
ORDERS:
--
CONDEMNED:
April 15, 2010, four days after a one-alarm fire caused significant damage to the roof system and walls. The house was vacant at the time. The owner told the City that she had no money to rehabilitate the house and had been dropped by her insurance company prior to the fire.
HAZARD:
October 2012, adding gutters and downspouts and broken or missing windows.
REASON RAZED:
Declared a public nuisance and entered into the City's hazard abatement program. Demolished using Moving Ohio Forward program funding.
MAP