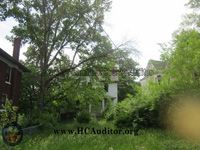 NEIGHBORHOOD:
Walnut Hills
YEAR BUILT:
1865
USE:
Two-family dwelling
OWNER:
Tracy Croom
ASSESSED VALUE:
$13,940
ORDERS:
August 2004, ordered vacated and barricaded.
CONDEMNED:
December 2006, for deteriorated and missing siding and rotted and visible framing members. Reissued to a new owner in June 2008, who was soon seeking a buyer due to bankruptcy. A criminal case was filed against him in March 2009, and in January 2010 he received a 180-day suspended jail sentence, two years of probation, and court costs.
HAZARD:
May 2009. The current owner acquired the property in August 2012.
REASON RAZED:
Declared a public nuisance and entered into the City's hazard abatement program. Demolished using Moving Ohio Forward program funds.
MAP