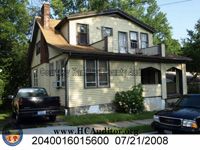 NEIGHBORHOOD:
West Price Hill
YEAR BUILT:
1922
USE:
Two-family dwelling
OWNER:
REO Acceptance Corp Ltd (West Palm Beach, FL)
ASSESSED VALUE:
$1,000
ORDERS:
--
CONDEMNED:
November 2011. A civil fine was issued in February 2012. Orders were reissued in August 2012, citing soffits, gutters and downspouts, weather damage, broken and missing windows and doors, and a hazardous front porch. A second civil fine was levied in September 2012.
HAZARD:
September 2012.
REASON RAZED:
Declared a public nuisance and entered into the City's hazard abatement program. Demolished using Moving Ohio Forward program funds.
MAP