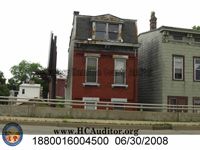 NEIGHBORHOOD:
Camp Washington
YEAR BUILT:
1882
USE:
Single-family dwelling
OWNER:
Floyd Chambers
ASSESSED VALUE:
$16,700
ORDERS:
December 2010, for windows, soffit, cornice, and gutters and downspouts. In February 2011, the owner's girlfriend contacted City inspectors and told them that he was in a nursing home with Alzheimer's and was likely to remain there. The house was ordered vacated and barricaded in July 2011, adding tuckpointing, a lack of exterior paint, and no water service.
CONDEMNED:
February 2012, adding missing doors, rusting fire escape, masonry damage, missing and vandalized mechanicals, a lack of utilities, and trash.
HAZARD:
August 2012.
REASON RAZED:
Declared a public nuisance and entered into the City's hazard abatement program. Demolished using Moving Ohio Forward program funds.
MAP