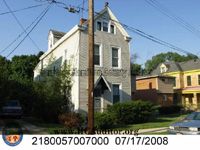 NEIGHBORHOOD:
Avondale
YEAR BUILT:
1901
USE:
Single-family dwelling
OWNER:
Johnnie W. Harris
ASSESSED VALUE:
$52,240
ORDERS:
May 2012, ordered vacated due to structural failure and a lack of water service for at least two years.
CONDEMNED:
August 2012, for rotten frame walls, unstable floor joists and a washed out stone foundation that had led to severe water damage and caused the structure to move.
HAZARD:
December 2012, adding defective downspouts and missing windows. In January 2013, the right side of the house collapsed into the neighbor's yard.
REASON RAZED:
Emergency demolition of a hazardous building due to a structural collapse.
MAP