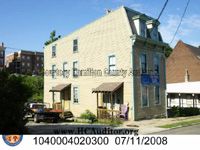 NEIGHBORHOOD:
Corryville
YEAR BUILT:
1880
USE:
Two-family dwelling
OWNER:
Uptown Rental Properties LLC
ASSESSED VALUE:
$62,440
ORDERS:
October 2010, for exterior walks, siding, exterior paint, windows, and front porch. Orders reissued in October 2012 for exterior walks, siding, and exterior paint. Uptown Rental Properties acquired the property in November 2012, and the orders were reissued.
CONDEMNED:
--
HAZARD:
--
REASON RAZED:
Demolished by Uptown Rental Properties for future redevelopment.
MAP