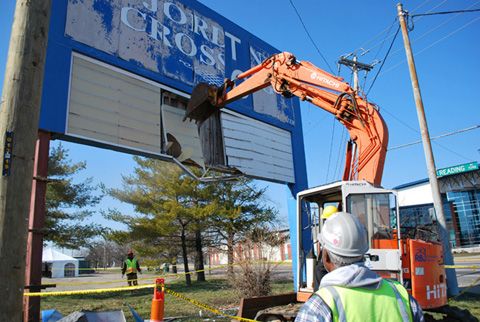 Redevelopment of the
23-acre Jordan Crossing site
in Bond Hill began last Thursday with the demolition of a vacant
Burger King
restaurant and the removal of the 32-foot billboard sign that marked the Reading Road-Seymour Avenue intersection for more than four decades.
The site includes the 250,000-square-foot Swifton Commons mall property, which has fallen into decline due to years of disinvestment and deferred maintenance. That building will be demolished later this summer.
The
Port of Greater Cincinnati Development Authority
purchased the property from Allen Temple Real Estate Foundation on Feb. 19.
The Port Authority will clear the site and market it to private developers for office, residential and retail use. A hotel could also be part of the estimated $75 million of investment, Port Authority President and CEO Laura Brunner said.
"Today represents the first step in a several year process to convert this key intersection back into a vibrant place to work, shop and live," Brunner said. "The Port Authority is prepared to be creative in how we work with the community to achieve a development that creates jobs and a sense of place."
Strategic location
Located strategically just six miles north of Downtown, the site was identified as a high-priority for redevelopment in the
2008 GO Cincinnati Plan
.
The City provided $6.2 million toward the Port Authority's purchase of the property through its
Focus 52
bond program.
"This is an important day for the Bond Hill neighborhood," said Cincinnati Mayor Mark Mallory. "This redevelopment represents the City's first investment injection from our new Focus 52 program fund, created just for transformational projects such as this one."
An updated site plan, complete with architectural renderings, is expected to be completed by April 15. The release of a final master plan is expected May 1.
When it opened in 1956 as the region's first shopping mall, the Swifton Shopping Center featured 66 retailers, including two supermarkets and a two-story Rollman's department store.
The mall was remodeled and rebranded as Swifton Commons in 1985, but competition from suburban malls, population loss, and a lessening of neighborhood residents' buying power accelerated its decline.
The property went into foreclosure three times in the 1990s, with
Allen Temple AME Church
eventually purchasing the property in 1999 for $1.2 million.
Image provided
Previous reading on BC:
City to issue $6.2M in bonds for Jordan Crossing (11/21/12)
Port: $8.5M needed to ready Jordan Crossing site for developers (10/26/12)
Photos: Jordan Crossing, Mill Creek flowers, Camp Washington (7/30/12)
Cincinnati seeks $3.5M in state funds for Jordan Crossing (3/30/10)
Allen Temple seeking JRS grant for 'smart office development at Jordan Crossing (7/3/08)