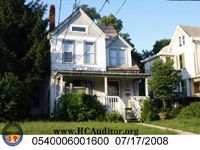 NEIGHBORHOOD:
Evanston
YEAR BUILT:
1902
USE:
Single-family dwelling
OWNER:
Kevin D. and Anita J. Gross
ASSESSED VALUE:
$57,220
ORDERS:
--
CONDEMNED:
April 2011, following a structure fire that damaged the house's roof, floors, windows, doors, walls, and mechanical systems.
HAZARD:
October 2011. The owners completed most of the exterior repairs and received a stay of demolition.
REASON RAZED:
Declared a public nuisance and entered into the City's hazard abatement program.
MAP