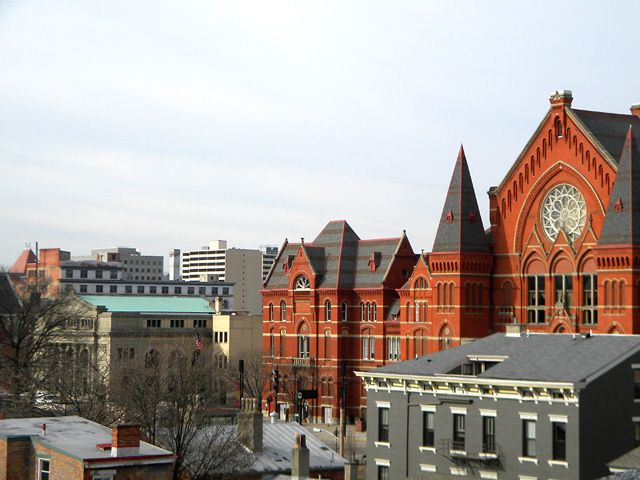 Although agreements for the $95 million renovation of Music Hall have been approved, the
Music Hall Revitalization Company (MHRC)
cautions that no construction timetable has been set.
In an April 26 e-mail, the MHRC made that clarification in light of recent reports concerning the April 10 lease agreement with the City and the April 18 development agreement with the
Cincinnati Center City Development Corp (3CDC)
, which will serve as project manager.
"All of the performances which are usually held at Music Hall will continue to take place at Music Hall," the e-mail said. "Once the new funding strategy has been finalized and a construction timetable is set by MHRC and 3CDC, Music Hall's resident companies will communicate any displacement of performances and temporary alternative venues well in advance."
The two parties will spend the next four to six months reviewing the preconstruction work already completed by MHRC. They will then develop a final design, construction timetable and budget, and financing plan, the e-mail said.
Renovation plans include addressing deferred infrastructure issues such as the building's aging gallery and mechanical systems and adding amenities such as expanded restrooms, more comfortable seating, and better accessibility – including new elevators and escalators. The bricked in windows on the Elm Street façade will be opened up and the two-ton crystal chandelier in Springer Auditorium will remain.
GBBN Architects
will design the improvements, and
Messer Construction
will serve as the general contractor. Construction will take two years to complete.
In December, the City and MHRC agreed in principle to the terms of the agreement, which allows MHRC to lease the building for 75 years at an annual rate of $1.
The City will provide a total of $600,000 in capital repair funds from 2013-2015 and up to $10 million in project funds from 2016-2019.
In return, MHRC must raise at least $16.5 million by July 1, 2015, and construction must begin by June 1, 2016. Approximately $11 million has been raised so far, according to the lease agreement.
A
National Historic Landmark
, the 135-year-old Music Hall is home to the
Cincinnati Symphony and Pops Orchestra
,
Cincinnati Opera
,
Cincinnati Ballet
, and the
Cincinnati May Festival
.
Previous reading on BC:
Planning Commission Friday: IDCs, Music Hall, St. Leger Apartments (4/4/13)
Planning Commission Friday: Music Hall, Olive Garden, streetcar (2/14/13)
75-year lease agreement to hasten Music Hall donations, restoration (12/21/12)
Music Hall lease proposal deemed 'one-sided', lacks support (6/25/12)
Music Hall exteriors and Stettinius Avenue in the snow (12/22/08)