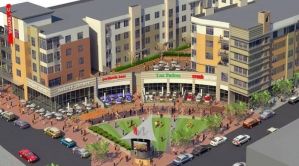 Cincinnati City Council on Mar. 27 adopted a motion requiring developers and their designated subcontractors to pay all workers prevailing wage on projects financed with at least 30 percent City support.
The motion, by councilmembers Laure Quinlivan, Cecil Thomas, and Wendell Young, was in response to claims of worker underpayment and exploitation at the
U Square @ the Loop
project, currently under construction along
Calhoun and W McMillan streets
in Clifton Heights.
The City alleges that prevailing wage was paid only on construction of the garages – which received direct City support – and not on the residential portion. It also says that the master developer,
Towne Properties
and
Al. Neyer, Inc.
, has failed to accept responsibility for the actions of its subcontractors in subsequent meetings with Council.
An investigation by the three councilmembers unveiled underpayment to two carpenters, Garrick Foxx and Demetrius Barnes, who produced paychecks from subcontractor Midwest Framing Construction showing that they were being paid far less than the $23.17 an hour promised in the City's development agreement with the developers.
But last September, the State of Ohio ruled that there was no statute requiring the developers to pay such wages on privately-funded portions of the project.
A pending lawsuit filed by the
Greater Cincinnati Building and Construction Trades Council
against the developers is seeking to overturn that decision. Foxx and Barnes later received a settlement for some of their lost wages.
"These men were being pressured to sign documents stating they were paid prevailing wage, and then lost their jobs after blowing the whistle and talking with us on camera," Quinlivan said in a prepared release.
The motion defines "city support" as all incentives and tax abatements, building fee reductions, land donations, and infrastructure improvements.
The City estimates that it has invested at least $22 million in the project – or approximately 40 percent of the project cost.
The 161 apartments at U Square @ the Loop will be ready for occupancy in August. The development's parking garages opened last month.