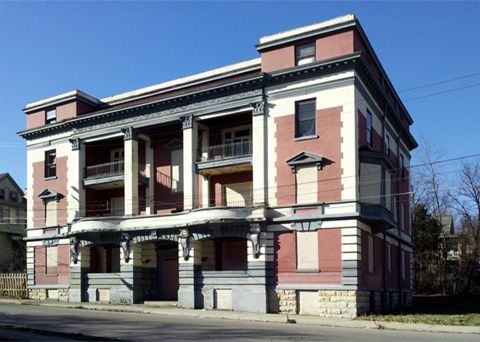 Cincinnati's newest local historic landmark is the Kinsey Apartment Building, located at
2415 Maplewood Avenue
in Mount Auburn.
City Council approved the designation last Wednesday in a move that will help applicant and owner Graham Kalbli of
CR Architecture + Design
obtain Ohio Historic Preservation Tax Credits (OHPTC) to redevelop and preserve the long-vacant, 15,810-square-foot structure.
Built in 1905 and designed by Joseph Steinkamp in the Beaux-Arts architectural style, the building features three full stories, an attic, and a basement. The façade, a combination of stone and painted brick, features prominent rear corner bays, balconies with wrought iron railing, and brick columns topped with Corinthian capitols and supporting "a presumed pressed metal arabesque".
Both the City's Historic Conservation Board and City Planning Commission recognized not only the building's architectural form, but also its contribution to the broad patterns of Cincinnati urban redevelopment in the late 19th and early 20th century, when an expanding population began to leave the basin and settle in large numbers within hillside communities such as Mount Auburn.
The deadline for the OHPTC application is tomorrow, and awardees will be announced on or before June 30.
No timeline for construction has been announced.
Previous reading on BC:
Planning Commission Friday: Music Hall, Olive Garden, streetcar (2/14/13)