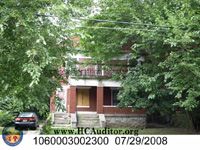 NEIGHBORHOOD:
Avondale
YEAR BUILT:
1910
USE:
Two-family dwelling
OWNER:
Maria Del Quinones (Northridge, CA)
ASSESSED VALUE:
$27,950
ORDERS:
January 2007, for exterior paint, windows, front walks, trash, masonry walls, front steps, gutters and downspouts, cornice, and chimney. Orders were reissued in July 2007 for the cornice, exterior paint, rotten front porch, and gutters and downspouts. In October 2008, a new owner emerged and received orders for the flashing, gutters and downspouts, cornice, soffit, and front porch. Ordered vacated and barricaded in February 2009 following a fire.
CONDEMNED:
October 2009, issued to a new owner.
HAZARD:
December 2009, now with a structurally unsound roof and broken and missing windows.
REASON RAZED:
Declared a public nuisance and entered into the City's hazard abatement program. Demolished using Moving Ohio Forward funding.
MAP