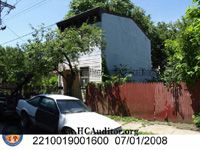 NEIGHBORHOOD:
Northside
YEAR BUILT:
1865
USE:
Single-family dwelling
OWNER:
Steven F. Bloomfield
ASSESSED VALUE:
$11,700
ORDERS:
January 2008, for trash, exterior paint, and illegal storage of motor vehicles. Orders reissued in November 2009 for trash, exterior steps, exterior paint, and siding. In March 2012, orders were reissued for the fence, siding, windows, cracked foundation, and trash. The house was ordered barricaded.
CONDEMNED:
--
HAZARD:
--
REASON RAZED:
Acquired by the current owner and
Bloomfield/Schon + Partners
principal in January 2013 and demolished, possibly for future development around
American Can Lofts
.
MAP