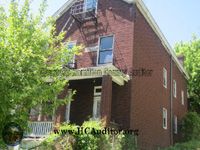 NEIGHBORHOOD:
Millvale
YEAR BUILT:
1915
USE:
Three-family dwelling
OWNER:
Matthew Fondenberger
ASSESSED VALUE:
$25,980
ORDERS:
March 2002, ordered vacated and barricaded. Reissued in April 2002. In August 2004, orders were issued for exterior hand rails and a cracked foundation. In April 2005, the building was again ordered vacated and barricaded with citations for the roof, flashing, chimney, gutters and downspouts, cornice, siding, windows, porch, and exterior steps.
CONDEMNED:
October 2007. Attempts to sell the property were unsuccessful. In January 2012, the property was cited for the porch, plaster, window security, bathroom door, flooring, vermin, foundation holes, roof, gutters and downspouts, chimney, exterior paint, windows, exterior steps, exterior basement door, exterior hand rail, exterior doors, exit and hall lights, smoke detectors, paint, interior hand rails, stair treads, water leaks and damage, light and ventilation, bath and shower fixtures, electrical and plumbing, floor structure, wiring, lack of heat, fire escape, cornice, and flashing....
HAZARD:
May 2012. No surprise.
REASON RAZED:
Declared a public nuisance and entered into the City's hazard abatement program.
MAP