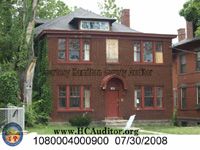 NEIGHBORHOOD:
Avondale
YEAR BUILT:
1900
USE:
Multi-family dwelling (8 units)
OWNER:
8363 Reading Road Trust (Hickory, NC)
ASSESSED VALUE:
$14,700
ORDERS:
September 2006, for exterior handrail, exit and hall lights, cornice, gutters and downspouts, roof, retaining wall guardrails, lack of water, plaster, wallpaper/paint, water leaks, stair treads, plumbing, trash, fire separations, a hazardous tree, illegal occupancy, unsafe floors, masonry repair, siding, windows, and accessibility/egress issues. Anything else? In March 2008, orders were reissued for windows, exterior paint, siding, soffit, and gutters and downspouts.
CONDEMNED:
February 2009, then again in July 2009. Reissued to the current owner in December 2009.
HAZARD:
December 2010.
REASON RAZED:
Declared a public nuisance and entered into the City's hazard abatement program.
MAP