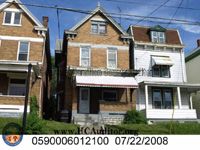 NEIGHBORHOOD:
Evanston
YEAR BUILT:
1907
USE:
Single-family dwelling
OWNER:
Ajal Properties LLC
ASSESSED VALUE:
$45,000
ORDERS:
May 2003, for gutters and downspouts, cornice, and exterior paint. Orders were reissued in October 2005, adding windows. Ordered vacated in August 2007, adding flashing, soffit, masonry walls, exterior steps, hand rails, smoke detectors, paint, plaster, water leaks, and inadequate plumbing, electric, and heating systems. Ordered vacated and barricaded in December 2009, then again in March 2010.
CONDEMNED:
--
HAZARD:
--
REASON RAZED:
Demolished by the owner to close out orders.
MAP