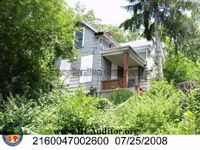 NEIGHBORHOOD:
Avondale
YEAR BUILT:
1895
USE:
Single-family dwelling
OWNER:
Benworld Construction LLC (Bronx, NY)
ASSESSED VALUE:
$12,450
ORDERS:
--
CONDEMNED:
November 2009, for cornice, bulging foundation, gutters and downspouts, and high weeds.
HAZARD:
May 2010, adding broken and missing windows, allowing for a constant stream of people into and out of the property.
REASON RAZED:
Declared a public nuisance and entered into the City's hazard abatement program.
MAP