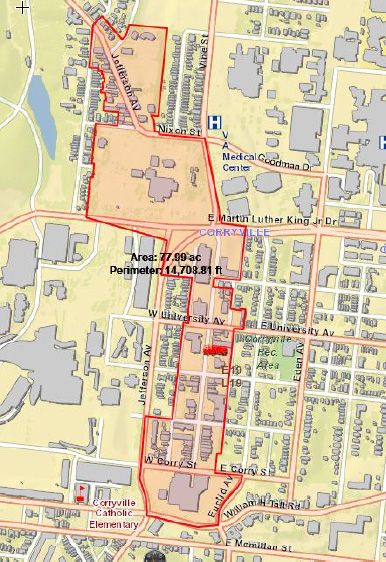 Seventy-eight acres in Corryville have been designated as Cincinnati's seventh community entertainment district, making an additional 15 liquor licenses available to prospective restauranteurs in and around Short Vine.
Uptown Consortium
affiliate CVP Redevelopment Holdings, LLC sponsored the application for the district, which it believes will help create jobs within the commercial areas along Vine Street and Jefferson Avenue from University Plaza to Ruther Avenue.
Corryville Community Council
and the
Short Vine Business Association
both support the measure.
Under Ohio law, the number of liquor licenses available to a municipality is based upon its population. Because of the City's population loss, it has lost 18 percent of its available liquor licenses over the past 14 years, helping to drive up the price of licenses on the resale market to between $25,000 and $30,000 – with wait times of four or more years.
The discounted licenses, available from the state for about $1,500, will save the 15 businesses an estimated $375,000, which they can spend instead on equipment, staff, or build out.
The City's other community entertainment districts are in Downtown at
The Banks
, East Price Hill, Madisonville, Northside, Over-the-Rhine, and Pleasant Ridge.
Previous reading on BC:
$2.5M bond package to further Madisonville redevelopment plans (12/27/12)
Funding appropriated for four streetscape projects (7/3/12)
OTR to become City's fifth Community Entertainment District (4/25/12)
Entertainment district allows Emanu to stay in Pleasant Ridge (3/28/11)
Bonds approved for Short Vine streetscape (2/15/11)