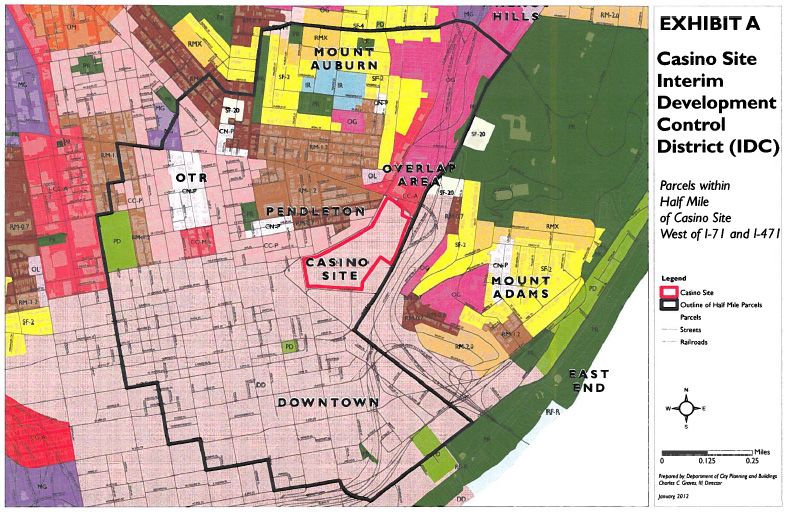 Cincinnati City Council on Wednesday extended a development control overlay around the
Horseshoe Casino Cincinnati
for an additional six months, providing more time for City staff to study the compatibility of the complex land uses and zoning surrounding the $400 million development.
Established a year ago, Interim Development Control Overlay District 66 temporarily regulates the establishment of uses, construction of new buildings, and demolition or alteration of existing structures within one half-mile of the casino.
Within the district, permits for certain types of establishments are subject to City Planning Commission review, including pawn shops, jewelry or gold exchange stores, video stores, novelty stores, tobacco stores, liquor stores, check cashing shops, bail bonds, convenience markets, commissaries, massage parlors, bingo parlors, pool rooms, and sexually-oriented businesses.
Each review will be guided by the findings of the Broadway Commons District Plan, developed by
Bridging Broadway
and the
University of Cincinnati Community Design Center
and approved by the City Planning Commission last January.
The 354,000-square-foot casino is scheduled to open March 4.
Previous reading on BC:
Construction photos: Horseshoe Casino Cincinnati, 8/18/12 (8/24/12)
Qualls motion would establish casino area working group (4/26/12)
Casino area development controls extended 9 months (4/23/12)
Registration open for final Bridging Broadway visioning session (3/15/11)
Casino breaks ground, design work remains (2/7/11)