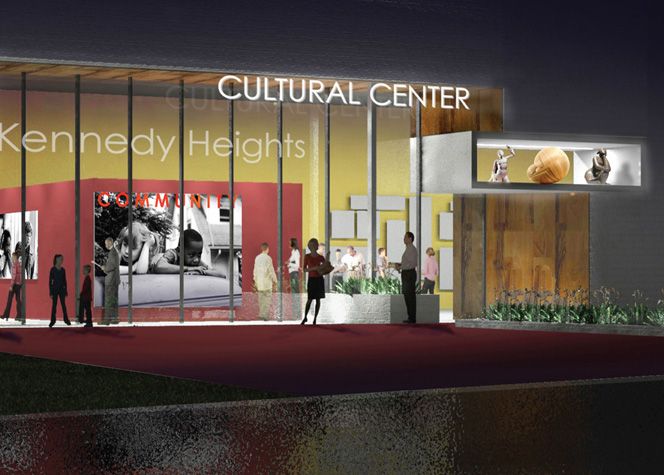 A
request for proposals (RFP) for interior renovation and tenant finishes at the Kennedy Heights Cultural Center
will end next Wednesday, just as roof replacement, interior demolition, and asbestos abatement gets underway.
The $3.1 million project will transform the 32,676-square-foot building at
6620 Montgomery Road
, which once housed
Kroger
and later
Furniture Fair
, into the
Cincinnati Art Museum's
first off-campus site, with a gallery, educational space, and storage; event, studio, and gallery space for the
Kennedy Heights Arts Center
; and a relocated
Kennedy Heights Montessori Center
, currently in Pleasant Ridge.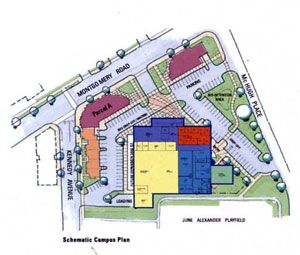 The RFP includes three design-build bid packages: A "shell and white box" preparation of interior walls and mechanicals for all three tenants, a tenant finish of the museum's 14,000-square-foot space, and completion of a 9,204-square-foot space for the school.
The building's use as a cultural center was first envisioned in the 2007 Kennedy Heights NBD Urban Design Plan. In 2011, the City purchased the property from
Cincinnati Public Schools
for $720,000, and approved a sale and development agreement with the Kennedy Heights Development Corporation in March 2012.
A groundbreaking ceremony was held by KHDC last June. At the time, an opening date of April 2013 was announced and has not since been updated.
Previous reading on BC:
Groundbreaking for Kennedy Heights center 'a delicious, marvelous day' (6/15/12)
Kennedy Heights Cultural Center a go (3/26/12)
Tomorrow a big step for Kennedy Heights cultural anchor (3/15/12)
Kennedy Heights Urban Design Plan approved (12/24/07)
EDC to hear on Kennedy Heights NBD (12/18/07)