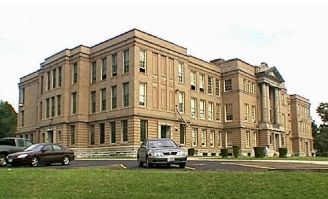 Cincinnati's Historic Conservation Board on Monday recommended the designation of the Kirby Road School, located at
1710 Bruce Avenue
in Northside, as a local historic landmark – bringing the property closer to a proposed residential rehabilitation.
Developer
Bloomfield/Schon + Partners
has prepared a concept plan for Kirby Lofts, which would create 37 apartments within the 50,910-square-foot structure. The concept plan also proposes a new building on the site, which would add an additional 40 units and would be built based upon market demand.
A local historic landmark designation could help the project attract historic preservation tax credits.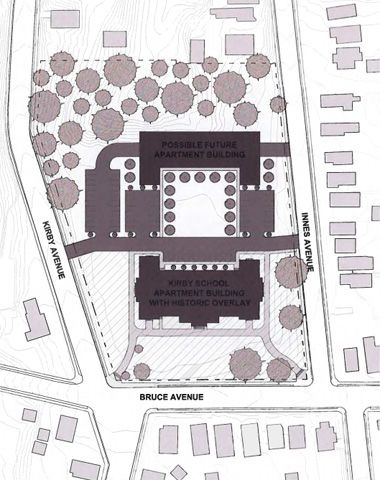 Opened in 1910, the three-story school replaced the first Kirby Road School, which was built in 1869 near the
intersection of Kirby Avenue and Hanfield Street
. The building was designed by the Cincinnati firm of Elzner & Anderson, best known for the
Ingalls Building
, erected Downtown in 1903 as the first reinforced concrete skyscraper in the world.
Cincinnati Public Schools (CPS)
closed the building in 2005 and reassigned its students to
Chase Elementary School
and
Pleasant Hill Academy
. The developer purchased the building from CPS in an online auction in November and closed on the property earlier this month.
On Friday, the concept plan will be presented to the City Planning Commission, which will consider both the local landmark designation and a rezoning of the five-acre property from single-family district to planned development district.
Bloomfield/Schon + Partners developed the award-winning
American Can Lofts
, rehabilitating a blighted Northside factory building into 110 market-rate apartments and 12,000 square feet of commercial space.
Previous reading on BC:
City wins award for American Can (10/8/12)
City soliciting proposals for former Northside lumber yard (7/30/12)
Northside's Factory Square set to begin (6/22/10)
2801 Erie photo update, 7/21/09 (8/18/09)
Factory Square photo update, 4/4/09 (4/22/09)