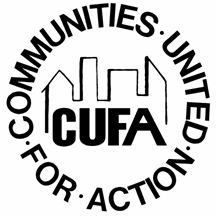 Despite the fact that it's a pilot program only halfway through its one-year trial run, a local advocacy group has chosen to put its support behind the expansion of the
Vacant-Foreclosed Registration Program (VFRP)
to all 52 Cincinnati neighborhoods.
That overwhelming support was made clear during a Saturday membership meeting of
Communities United for Action (CUFA)
, held in South Cumminsville.
The program was launched in July in the five neighborhoods with the highest number of foreclosures between 2007 and 2011 – College Hill, East Price Hill, Madisonville, West Price Hill, and Westwood.
In those neighborhoods, lenders who foreclose on a property must pay a $500 registration fee within ten days of the property becoming vacant. An annual filing is required until the property is sold at a judicial sale, is transferred to an owner-occupant, or makes its way into the hands of a third party.
Lenders also have to refrain from posting signs or placards indicating that the property is vacant or foreclosed, keep the grass and weeds to ten inches or less in height, keep the property litter-free, and make sure that the structure is secure and locked.
In the five pilot neighborhoods, 329 properties have been foreclosed. Of those, 110 have become vacant, and 84 owners have registered under VFRP – resulting in $42,000 in fines.
Failure to pay the fines results in a weekly penalty of $1,000.
JP Morgan Chase Bank NA
has already racked up $18,350 in fines, and
Wells Fargo Bank NA
$8,350 in fines – part of $89,150 in fines assessed through six months of the program.
The amount of fines collected is not yet available.
"Some of them have gotten the message," said Ed Cunningham, division manager of Property Maintenance and Code Enforcement. "We've seen some behavioral changes already."
Attention doesn't happen overnight
CUFA has taken part in several actions on behalf of struggling homeowners. In 2011, it delivered garbage from several
U.S. Bank
-owned properties to the bank's lobby.
That gained the bank's attention, and led to a partnership between CUFA, U.S. Bank,
Fifth-Third Bank
, and
PNC Bank
.
"We fight against foreclosures," said CUFA President Roger Davis. "We fight to keep people in their homes."
That advocacy resulted in the VFRP, which CUFA saw as a way to hold communities' value in the face of the increase in criminal activity that foreclosed properties bring to a neighborhood.
"We've pushed for it for over a year now," Davis said. "It doesn't happen overnight."
The office of Councilmember P.G. Sittenfeld supported the program, and he said it's one of the pieces of legislation he feels most proud of because it brings a point of accountability to lenders who so often turn their backs upon the communities they serve.
"If your neighbors aren't taking care of their property the way they should, it starts to hurt you," he said. "Too big to fail shouldn't mean to big to mow the grass."
Cunningham said that the program is an early way to get on top of problem properties and is an improvement on the current "abandoned-vacant model".
"By the time we get to that model, we're a little too late," he said.
Hard hit, included?
Many of the meeting's attendees came from the City's smaller neighborhoods, which never could have qualified for inclusion in the City's pilot program due to having much fewer housing units. Some of them, such as North Fairmount and South Fairmount, have much higher rates of foreclosure and abandonment.
Sittenfeld said that he'd be receptive to including neighborhoods on a "per capita" basis, but that decision would have to come next July when the program is evaluated for its effectiveness.
"If you're trying to fight crime, you go to where the most crime is," he said. "I hope that the logic of the numbers is on our side."
Previous reading on BC:
Cincinnati council funds foreclosure pilot program (7/9/12)
Cincinnati approves foreclosure pilot program for five neighborhoods (6/14/12)
Report: Foreclosure filings down for second year in a row, but caution urged (4/27/12)
City administration supports foreclosure pilot program (4/3/12)
Foreclosure report shows 2010 filings down, losses up (4/4/11)