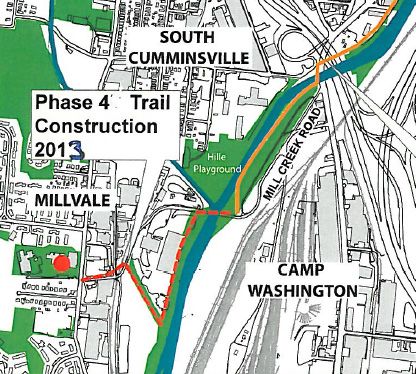 Groundwork Cincinnati/Mill Creek (GWC)
, formerly the Mill Creek Restoration Project, has announced that it in will receive two grants this year from the
Clean Ohio Fund
to further its improvements to the urban waterway.
The first, a $245,479 grant from the Clean Ohio Trail Fund, will be used to underwrite Phase 4 of the Mill Creek Greenway Trail. The hike-bike trail will be extended more than one-half of a mile southward from its current terminus at the Mill Creek Road in Camp Washington to the
intersection of Beekman Street and Fricke Road
, near the Ethel M. Taylor Academy in Millvale.
To be eligible for the funding, GWC must raise $115,000 in local matching funds to support project management, due diligence, engineering, design, environmental improvements, and signage.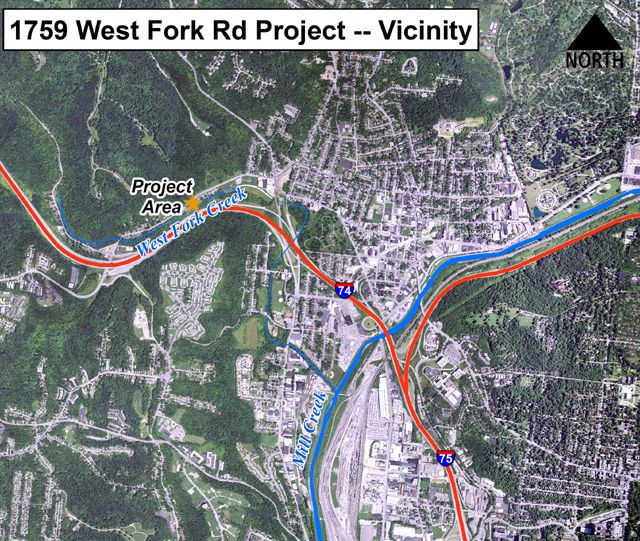 A second grant of $219,420, coming from the Clean Ohio Conservation Fund and approved by the Hamilton County Natural Resources Advisory Committee, will be used for floodplain restoration along West Fork Creek in Northside.
Restoration will be accomplished through reforestation, the use of native plants and amended soils, and the diversion of stormwater runoff from the surrounding watershed into a shallow bio-infiltration basin with a storage volume of approximately 500,000 gallons.
The West Fork watershed covers 6,117 acres and is a major tributary of the Mill Creek.
"This Clean Ohio Conservation Fund project is especially exciting because it will serve as a catalyst for launching a longer-term, multi-objective strategy by the
Metropolitan Sewer District of Greater Cincinnati
, GWC, the City
Park Board
, Mill Creek neighborhoods, and other partners," said GWC Executive Director Robin Corathers.
GWC hopes to raise the matching funds within the next nine months while it performs all pre-construction work and plans to begin work on both projects next fall, Corathers said.
GWC, part of a network of 20 nonprofit trusts under the
Groundwork USA
umbrella, has been recognized as one of ten National Urban Waters Fellows as being a national model for its ecological and educational accomplishments.
DISCLOSURE: Building Cincinnati has provided photography for signage along the Mill Creek Greenway Trail.
Previous reading on BC:
Mill Creek nonprofit has new name, expanded scope (6/19/12)
Federal Office of Water head gets tour of Mill Creek, solidifies partnership (5/29/12)
MCRP makes pitch for Mill Creek trail funds (11/17/09)
Mill Creek greenway project wins $500K grant (10/12/09)
Report: Mill Creek trail could create 445 jobs, $52 million economic impact (9/8/09)