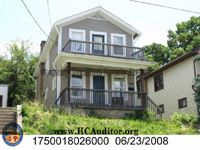 NEIGHBORHOOD:
East Price Hill
YEAR BUILT:
1915
USE:
Two-family dwelling
OWNER:
John Walsh
ASSESSED VALUE:
$44,810
ORDERS:
April 2007, for cornice. In January 2009, the building was ordered vacated and barricaded due to vandalism, broken windows, missing siding, hazardous entry stairs, a cracked chimney, and litter.
CONDEMNED:
June 2009.
HAZARD:
September 2009, adding a crumbling retaining wall and high weeds.
REASON RAZED:
Declared a public nuisance and entered into the City's hazard abatement program.
MAP