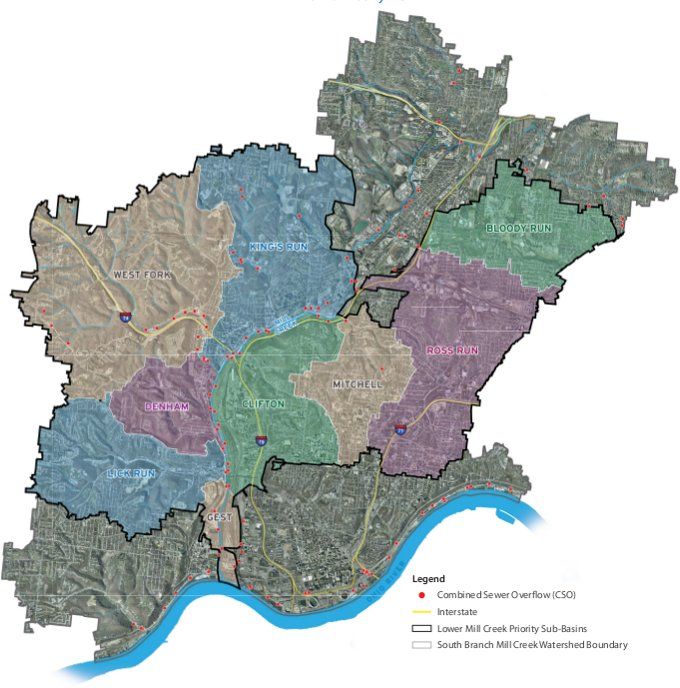 Following nearly three years of studies and stakeholder involvement efforts, the
Metropolitan Sewer District of Greater Cincinnati (MSD)
has submitted its proposed solutions to combined sewer overflows (CSOs) in the Lower Mill Creek watershed to the
U.S. EPA
,
Ohio EPA
, and the
Ohio River Valley Water Sanitation Commission
.
The revised
Lower Mill Creek Partial Remedy Study Report
outlines how MSD plans to eliminate 1.78 billion gallons of annual CSO overflows into the waterway by 2018, largely through the addition of sustainable infrastructure that can hold and delay the release of stormwater and keep it out of the sewers during heavy rains.
Part of a $3.2 billion program called Project Groundwork, the fixes are mandated by a 2002 federal consent decree that requires MSD to capture, treat, or remove at least 85 percent of the estimated 14 billion gallons of annual overflow volume in Hamilton County. The full Lower Mill Creek watershed covers approximately 40,000 acres – or 62.5 square miles – and contributes more than half of that volume.
Among the $276 million in proposed projects are: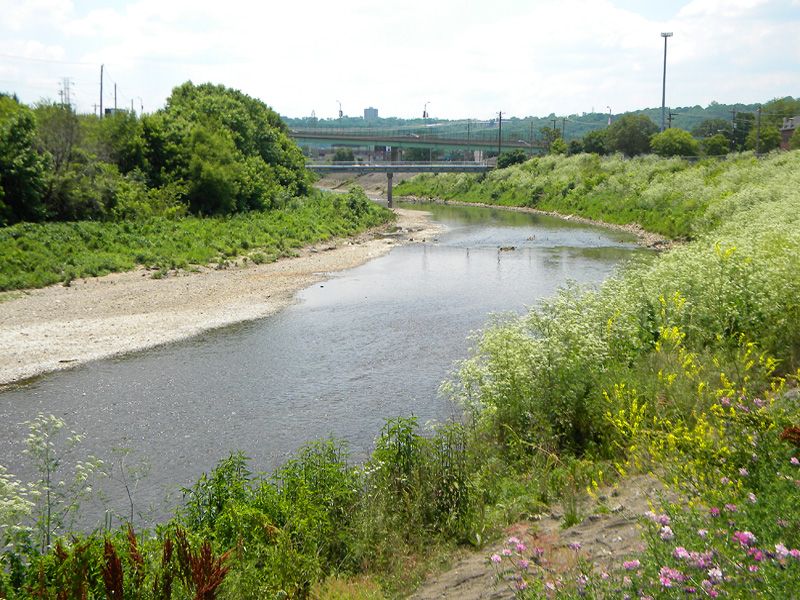 Lick Run: Daylighting of the Lick Run in South Fairmount, new storm sewers, and detention basins that will reduce overflows from the MSD's largest CSO by 650 million gallons annually;
West Fork: A reduction of the 173 million gallon annual CSO volume into the West Fork Channel, a Mill Creek tributary, with new storm sewer, basin discharge pipes, and detention basins;
Kings Run: A new sanitary sewer, repurposing of existing infrastructure, stream bank stabilization, and detention basins that will reduce overflows into the Kings Run tributary by 156 million gallons annually; and
Bloody Run: New real-time controls inside of the interceptor sewer, such as gates, pumps, and inflatable dams, that will reduce CSO volume by 93 million gallons annually.
Regulators are expected to make a decision on the proposal in early 2013.
A second phase of the Lower Mill Creek Partial Remedy will be submitted to regulators by December 31, 2017 and won't be ready for construction until after 2018.
Previous reading on BC:
County hearings on Lower Mill Creek sewer alternatives underway (9/26/12)
MSD completes Lick Run plan (5/30/12)
Cincinnati economic development will 'actively support' Lick Run businesses (4/9/12)
Workshop attendees overwhelmingly support Lick Run daylighting (4/3/12)