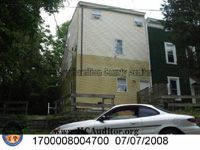 NEIGHBORHOOD:
South Fairmount
YEAR BUILT:
1865
USE:
Single-family dwelling
OWNER:
Creighton Jones
ASSESSED VALUE:
$25,550
ORDERS:
March 2007, ordered vacated and barricaded. Unable to find owner, lost to the bank in foreclosure.
CONDEMNED:
March 2008, for foundation failure, roof, gutters, and unsafe doors. Orders were reissued to the current owner in June 2009. A criminal case was filed in January 2010, and the defendant never showed.
HAZARD:
May 2010.
REASON RAZED:
Declared a public nuisance and entered into the City's hazard abatement program.
MAP