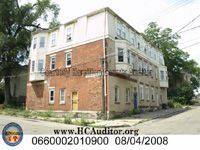 NEIGHBORHOOD:
Walnut Hills
YEAR BUILT:
1900
USE:
Multi-family dwelling (12 units)
OWNER:
Nverse LLC c/o Jeff Lane
ASSESSED VALUE:
$130,200
ORDERS:
December 2007, ordered barricaded. Orders reissued in February 2008, ordered vacated and barricaded due to vandalism, including the theft of copper pipes.
CONDEMNED:
September 2009, adding gutters and downspouts, exterior paint, and weeds and litter. A criminal case was filed that month, but was dismissed nine months later for want of prosecution.
HAZARD:
May 2012, adding broken and missing windows and water damage.
REASON RAZED:
Declared a public nuisance and entered into the City's hazard abatement program.
MAP