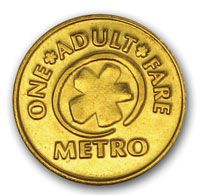 The end of an era in Cincinnati transportation history is coming in three days when
Metro
sells its last bus token.
The silver tokens are being phased out for new 10-ride tickets and 30-day rolling passes. Rolling passes, which are priced between $70 and $170, are sold by zone and allow for unlimited rides on all local and express routes within that zone.
Fareboxes will continue to accept tokens through June 30, 2013.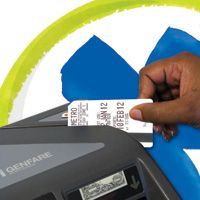 "Our new fareboxes support new fare options that make riding Metro easier," Metro CEO Terry Garcia Crews said in a prepared release. "Tokens are awkward to use. Our new 10-ride tickets are much more convenient."
Tickets and passes can be purchased at Metro's sales office, located Downtown at 120 E Fourth Street, at one of Metro's ten service outlets, online, or by mail.
Images courtesy of Metro
Previous reading on BC:
Feedback sought for Metro's draft regional transit plan (11/13/12)
Montgomery Road Metro*Plus service to be precursor to bus rapid transit (10/31/12)
Metro announces plans for $6.9M Uptown Transit District (10/23/12)
$2.5M FTA grant to provide Metro with six more 'mini-hybrid' buses (7/25/12)
Cincinnati group attends intensive bus rapid transit workshop (3/29/12)