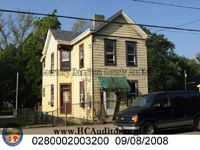 NEIGHBORHOOD:
East End
YEAR BUILT:
1881
USE:
Single-family dwelling
OWNER:
PNC Bank
(Cleveland, OH)
ASSESSED VALUE:
$36,330
ORDERS:
--
CONDEMNED:
April 2012, three days after a two-alarm fire that caused an estimated $50,000 in damage. The previous owner had passed away in 2010, and the property was in probate.
HAZARD:
--
REASON RAZED:
Razed by the executor of the former owner's estate at a cost of $10,788. PNC Bank took over ownership of the vacant lot yesterday.
MAP